Corporate Folder - Economy 310 Gloss One Side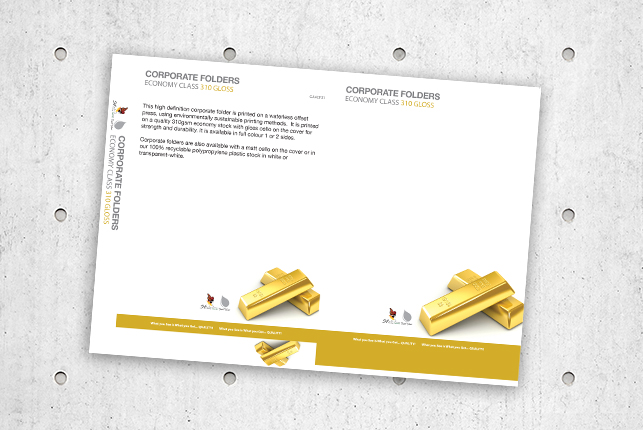 Economy Super Gloss 310 gsm.
Match your corporate folders to your business cards, post cards and other gloss celloglazed collateral by choosing our Economy Gloss stock. The gloss celloglaze adds durability, while the Economy stock is cost-effective. The end result? A corporate folder that's friendly to your marketing budget, practical and looks great.

Size
Quantity
Price
A4 - Standard - cello Front only
100
$ 528.00
150
$ 616.00
200
$ 704.00
250
$ 767.25
500
$ 937.75
1000
$ 1,193.50
1500
$ 1,493.25
2000
$ 1,856.25
2500
$ 2,227.50
View More
Size
Quantity
Price
A4 - Standard - cello Front only
100
$ 880.00
150
$ 1,056.00
200
$ 1,188.00
250
$ 1,278.75
500
$ 1,491.88
1000
$ 1,790.25
1500
$ 2,070.75
2000
$ 2,433.75
2500
$ 2,805.00
View More