Luxury 420 Gloss One Side (Postcards)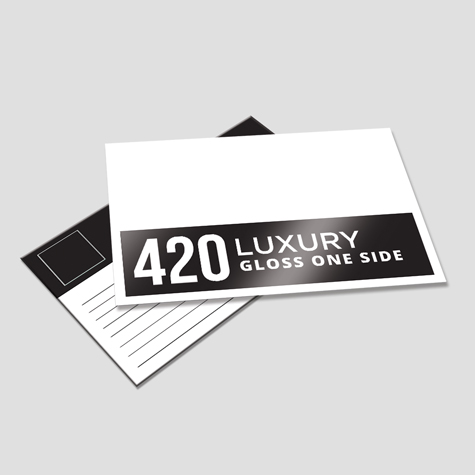 High Gloss Postcards
Why do we do the marketing we do? You'd think the answer should be "Because it works." But invariably it isn't. Often the answer is "Because everyone else is doing it".
And often those things that 'everyone else' is doing is the latest fad or fashion. Not necessarily something that works, just something that we think we should be doing.
Not at all like Postcard Marketing. It's not something everyone is talking about, it's not the latest fashion. But it works.
Get a quote right now on your left. All you need to add is the cost of your postage and you are delivering a high impact message directly to your customers. Remember that in the past postcards were used to share personal information with people you were close to (or wanted to show off to). They let people know they had not been forgotten about, even while you were gallivanting around the world.
Well postcards have the same effect today with your customers and prospects. They will let them know, quickly and cheaply, that you care about them and want their business.
Every person and their dog are sending email newsletters. No one is reading them. Why not stand out from the pack and grab your customer's attention through a card card-body designed postcard.
Order online now, or register today and we'll send you a range of postcards that will suit your business.
Download free templates to assist you in creating your artwork.
| | | | | | |
| --- | --- | --- | --- | --- | --- |
| A5 (210x148) | | | | | |
| Sumo (220x120) | | | | | |
| A6 (148x105) | | | | | |
| Postcard Sumo (220x120) | | | | | |
| DL (210x95) | | | | | |
| A6 Small (145x95) | | | | | |
| DL (210 x 99) | | | | | |