Cheap Black & White Flyers (Flyers)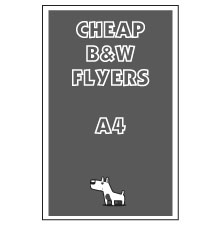 Black and White Best Price Flyers

If you are looking for maximum quantity at a minimum price, this is your answer.

These black and white flyers are a great budget solution. Single sided and double sided printing available.

Available in quantities starting at just 200, these are a fast and cheap option to get your message out there.

Black print, plain white copy paper. The absolute cheapest and fastest solution for you.
Size
Quantity
Price
DL
200
$ 60.50
500
$ 75.90
1000
$ 105.60
2500
$ 140.80
5000
$ 206.80
A5
200
$ 68.20
View More